Private Umit Hospital
---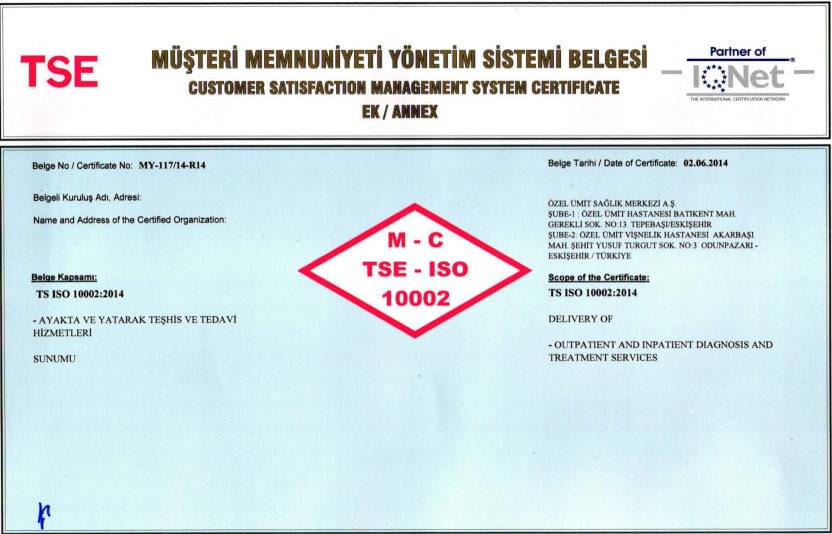 Quality Policy:
To provide healthcare services on time that each person has a right to receive by taking patient satisfaction into consideration in our hospital which meet the international standards in the scope of the regulation.
To care about the health and work safety of our employees.
To enhance team work and team spirit.
Together with all our employees, refresh and develop ourselves via training in order to improve our knowledge, skills and experience, being respectful and conservative to the environment while fulfilling our services is a priority for all Umit members.
Our mission:
We are here at your service for healthy and hopeful future.
Our vision:
We would like to become a supporter of our patients in sickness and health.
Our values:
People orientation
Conformity to ethical values
Social utility
Reliability
Rational Use of Medicines Policy
In the Private Umit Hospital, we adopt the understanding of the medicine is effective, if it is correctly used.
We want to satisfy all of the patients' needs in the light of current diagnostic and treatment guidelines, within the bounds of possibility;
By giving the right medicine to the right patient, by adhering the principle of identification and verification,
By questioning allergenicity,
By giving the patient the proper dose and on time, by understanding correctly the physician's orders,
By applying correctly,
By following the response of treatment to the illness,
By following the side effects,
By taking into consideration drug-meal and drug-drug interactions,
By keeping the drug inventory accurately,
By providing medicines reach to only authorized persons,
By returning medicines that are not accepted by the patient or left due to an early discharge /decease of the patient, back to the pharmacy, as a result by saving the medicine cost.
By responding to drug needs with control in emergency and on due time at nights,
By assuring the patients' security by decreasing the employees' faults.
1- Deputy Manager for Quality:
Dr. MEHMET ULUG – INFECTIOUS DISEASES AND CLINICAL MICROBIOLOGY SPECIALIST
2- Director of Quality Management:
DENİZ TALAS – QUALITY MANAGEMENT SECRETARY
3- Quality Management Staff:
QUALITY MANAGEMENT SECRETARY
4- COMITEES:
A- PATIENT SAFETY COMMITTEE
Dr. SELIM MURAT URER – RESPONSIBLE MANAGER
Dr. MEHMET ULUG - INFECTIOUS DISEASES AND CLINICAL MICROBIOLOGY SPECIALIST
NERMIN YILMAZ - HEADNURSE
Dr. ALPER HACIOGLU – GENERAL SURGERY SPECIALIST
Dr. YESIM ISILDI – ANESTHESIOLOGY SPECIALIST
ZAFER KESKIN – IT MANAGER
SEYMANUR GURKAN- PHARMACIST
FATMA DEMIR- PATIENT SERVICE MANAGER
OZLEM DUGUM- 2.ND FLOOR SERVICE RESPONSIBLE
SELDA TORE- RADIOLOGY TECHNICIAN
MUSTAFA YUDAR - EMERGENCY MEDICAL TECHNICIAN
B- EMPLOYEE SAFETY COMMITTEE
Dr. SELIM MURAT URER – RESPONSIBLE MANAGER
Dr. MEHMET ULUG - INFECTIOUS DISEASES AND CLINICAL MICROBIOLOGY SPECIALIST
NERMIN YILMAZ - HEADNURSE
SELDA TORE- RADIOLOGY TECHNICIAN
CIGDEM BOCEKCI – ANESTHESIOLOGY TECHNICIAN
NILUFER ERGUN – LABORATORY TECHNICIAN
ONUR IKIEL – HUMAN RESOURCES MANAGER
ANIK BAYATLABAG – 3RD. FLOOR RESPONSIBLE
ZEYNEP MAVILI SAPA – EMERGENCY SERVICE RESPONSIBLE
C- EDUCATION COMMITTEE
Dr. SELIM MURAT URER – RESPONSIBLE MANAGER
Dr. MEHMET ULUG – INFECTIOUS DISEASES AND CLINICAL MICROBIOLOGY SPECIALIST
NERMIN YILMAZ - HEADNURSE
ONUR IKIEL – HUMAN RESOURCES MANAGER
OZLEM DUGUM- 2.ND FLOOR SERVICE RESPONSIBLE
HACER AVSAROGLU – ASS. HEADNURSE
FATMA ACAR – CVS SERVICE NURSE
D- FACILITY SECURITY COMMITTEE
Dr. MEHMET ULUG - INFECTIOUS DISEASES AND CLINICAL MICROBIOLOGY SPECIALIST
NERMIN YILMAZ - HEADNURSE
ERCAN DEMIRAL – TECHNICAL SERVICES DIRECTOR
YASIN KANDEMIR – BIOMEDICAL TECHNICIAN ( MEDICAL INSTRUMENT RESPONSIBLE)
MUSTAFA YUDAR - EMERGENCY MEDICAL TECHNICIAN
ANIK BAYATLABAG – 3RD. FLOOR RESPONSIBLE
HUSEYIN DOGAN - EMERGENCY MEDICAL TECHNICIAN
FERIHA ANLI CELIK – OCCUPATIONAL HEALTH AND SAFETY SPECIALIST
E- RATIONAL USE OF MEDICINES COMMITTEE
Dr. SELIM MURAT URER – RESPONSIBLE MANAGER
Dr. MEHMET ULUG - INFECTIOUS DISEASES AND CLINICAL MICROBIOLOGY SPECIALIST
Dr. ALPER HACIOGLU – GENERAL SURGERY SPECIALIST
SEYMANUR GURKAN - PHARMACIST
F- BLUE CODE TEAM
EMERGENCY SERVICE SPECIALIST - DOCTOR
ZEYNEP MAVILI SAPA – EMERGENCY SERVICE RESPONSIBLE - SUPERVISOR (OUT OF WORKING HOURS)
SERVICE NURSE RESPONSIBLE ON THE FLOOR
EMERGENCY SERVICE NURSE ON DUTY
F- PINK CODE TEAM
NERMIN YILMAZ - HEADNURSE
YASIN KANDEMIR – BIOMEDICAL TECHNICIAN (MEDICAL INSTRUMENT RESPONSIBLE)
HACER AVSAROGLU - ASS. HEADNURSE
OUT OF WORKING HOURS; EMERGENCY SERVICE DOCTOR, SECURITY RESPONSIBLE, SERVICE NURSES
G- WHITE CODE TEAM
Dr. SELIM MURAT URER – RESPONSIBLE MANAGER
NERMIN YILMAZ - HEADNURSE
RESPONSIBLE NURSES ON DUTY
OUT OF WORKING HOURS; EMERGENCY SERVICE DOCTOR, SECURITY RESPONSIBLE, SERVICE NURSES
F- INFORMATION SECURITY TEAM
ZAFER KESKIN – IT MANAGER
HUSEYIN KARA – IT STAFF
G- INFECTION CONTROL COMMITTEE
Dr. SELIM MURAT URER – RESPONSIBLE MANAGER
Dr. MEHMET ULUG - INFECTIOUS DISEASES AND CLINICAL MICROBIOLOGY SPECIALIST
Dr. VAHAP ASLAN – HEMATOLOGY SPECIALIST
Dr. GULSEREN AKCAY – ANESTHESIOLOGY SPECIALIST
SEYMANUR GURKAN - PHARMACIST
NERMIN YILMAZ – HEADNURSE
H- BLOOD TRANSFUSION COMMITTEE
Dr. VAHAP ASLAN – HEMATOLOGY SPECIALIST
Dr. MEHMET ULUG - INFECTIOUS DISEASES AND CLINICAL MICROBIOLOGY SPECIALIST
Dr. GULSEREN AKCAY – ANESTHESIOLOGY SPECIALIST
Dr. OMER GUNEY – ORTHOPEDY SPECIALIST
Dr. ALPER HACIOGLU – GENERAL SURGERY SPECIALIST
Dr. SELAMI DOGAN – CVS SPECIALIST
GUZIN UYSAL- BIOLOGIST
DERYA GUDER – LABORATORY TECHNICIAN
HACER AVSAROGLU - ASS. HEADNURSE
MUGE ASAR - STATISTICS
I-ETHICAL COMMITTEE
ZAFER KESKIN – IT MANAGER
NERMIN YILMAZ – HEADNURSE
Dr. OMER GUNEY – ORTHOPEDY SPECIALIST
Dr. ALPER HACIOGLU – GENERAL SURGERY SPECIALIST
J - ETICS BOARD
Dr. VAHAP ASLAN – HEMATOLOGY SPECIALIST
Dr. BEKIR ALTAY - OTORHINOLARYNGOLOGY SPECIALIST
Dr. MEHMET ULUG - INFECTIOUS DISEASES AND CLINICAL MICROBIOLOGY SPECIALIST
Dr. EMINE ELMAS ETIZ – OBSTETRICES AND GYNAECOLOGY SPECIALIST
FATMA DEMIR- PATIENT SERVICES MANAGER
K - SUPERVISORY TEAM
NERMIN YILMAZ – HEADNURSE
ERCAN DEMIRAL - TECHNICAL SERVICES DIRECTOR
ONUR IKIEL – HUMAN RESOURCES MANAGER
5- QUALITY UNIT RESPONSIBLES
DR. ABDULKADIR GUREL – BIOCHEMISTRY SPECIALIST – LABORATORY RESPONSIBLE DOCTOR
Dr. MEHMET ULUG - INFECTIOUS DISEASES AND CLINICAL MICROBIOLOGY SPECIALIST
ANIK BAYATLABAG – 3RD. FLOOR RESPONSIBLE
HACER AVSAROGLU - ASS. HEADNURSE
CIGDEM BOREKCI - ANESTHESIA RESPONSIBLE
HUSEYIN DOGAN – CVS UNIT RESPONSIBLE
KADRIYE KARACA - NURSE – CARDIOLOGY UNIT RESPONSIBLE
EMINE ARSLAN – DELIVERY ROOM RESPONSIBLE
FADIME KAYA - NURSE- PTR UNIT RESPONSIBLE
SELDA TORE – RADIOLOGY TECHNICIAN – RADIOLOGY RESPONSIBLE
OZLEM DUGUM - NURSE – ONCOLOGY SERVICE RESPONSIBLE
AYDA ERKEN - DIETITIAN
MERAL AKCA - STAFF- CLEANING SERVICES RESPONSIBLE
MURAT ORNEK – PURCHASE MANAGER
ONUR IKIEL – HUMAN RESOURCES MANAGER
SEYMANUR GURKAN – PHARMACIST - PHARMACY
---